Temperature read out in ℃ and ℉
On/Off switch on the right side of the unit.
MCU controlled temperature calibration.
Simulate bar indicating heating up status.
LCD display screen making control visualization.
User-friendly menu enables system setting easier.
Separate iron stand to save room and to make easier deposit.
Buttons (1, 2, 3) for pre-setting or switching frequently used temperature.
Low-voltage heater separated from power supply to keep soldering work safer
Key Features
Tone and trace wire on non-active networks. SmartToneTM technology provides five distinct tones for exact pair identification. Battery : 9V alkaline

Sends a loud tone up to 16 km (10 miles) in most cables and provides five distinct cadences for isolating individual wire pairs

Loud speaker on Probe makes the tone easier to hear through drywall, wood, and other enclosures

Angled bed-of-nails clips allow easy access to individual pairs and RJ-11 easily connect to telephone jacks—no need for adapters

Attach nylon pouch (included in kit) to your belt for easy transport
Key features
Be safer: Measure voltage to 1000 V ac through the open fork, without test leads.
Be faster: No need to open covers or remove wire nuts.
Be more efficient: Simultaneously measure voltage and current.
Be everywhere: 17.8 mm open fork is widest in the industry; measure up to 200 A on 4/0 wires (120 mm2).
Go beyond simple detection. Actually measure ac voltage and current values without test leads.
Ideal for difficult conditions
Determination of resistance at two measurement points
Constant test currents up to 200 A
Assessing the quality of connections
Measurement with temperature compensation
Integration in circuit breaker testing with ACTAS
Dynamic resistance determination for up to six main contacts
Simple and intuitive operation
Results management and test report output via PC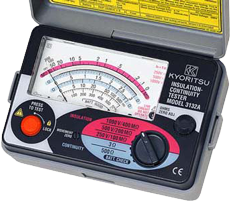 Kyoritsu 3132A – 1000V Analogue Insulation-Continuity Tester
A highly compact and easy to use insulation and continuity tester.
Rugged Taut Band meter movement
Designed to strict CAT III 600V safety standards
IP54 RATED. The Kyoritsu 3132A has 3 insulation test ranges.
A 3 ohm continuity range and a 500 ohm resistance range
Key Features:-
The 6201A is a portable appliance tester, performing four functions to ensure the safety of Class I and Class II appliances. It can also measure the mains voltage.
It has function to perform an extension lead test.
Cheapest Test & Tag machine into the market
Insulation test voltage selectable for 250V or 500V
The tester is conveniently colour coded for ease of use
Readings are displayed on a large LCD
Four (4) dual colour LEDs clearly display a Pass or Fail indication for threshold values dictated by AS/NZS 3760.
LCD screen to display measurement results and messages.
CAT IV 600V instrument and lead set compliance.
IP54 moisture and dust ingress rating.
Compact hand held unit housed in a lightweight heavy-duty case
Uniquely self powered passive device.
Power is taken directly from the user's connections.
3 LED indicators and an LCD screen for status and measurement information.
An audible alarm is fitted internally as a secondary indicator. To indicate a pass at the end of the measurement cycle or a measurement failure.
Modiewark Non-Contact Voltage Tester Typical uses
Identifying live conductors.
Fault finding in flexible cables.
Checking equipment grounding.
Neon lighting servicing.
Tracking live wires above and below ground at URD test points.
Phasing conductors.
High frequency radiation detection
What's Going On - Events, News, Tips
Have you seen the latest Fluke Process Test Tools for trouble shooting 4-20mA Process Loops? Troubleshoot your 4-20 mA Loops E...
FREE for NECA Members: One and Half Hour Info Session on benefits of thermal imaging, tips and trick of using Fluke Infrared Imager
Congratulations to David McKay for winning the Major Door Prize, valued at $1795 + GST, at the recent NECA Roadshows.