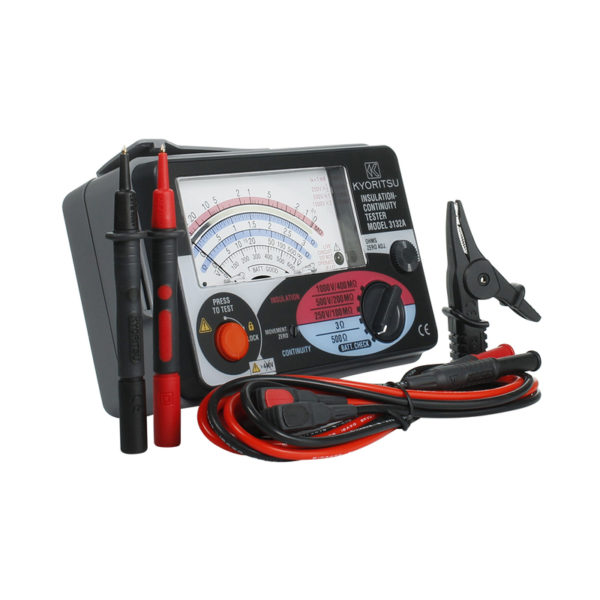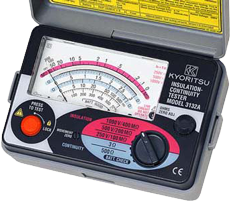 Kyoritsu 3132A – 1000V Analogue Insulation-Continuity Tester
A highly compact and easy to use insulation and continuity tester.
Rugged Taut Band meter movement
Designed to strict CAT III 600V safety standards
IP54 RATED. The Kyoritsu 3132A has 3 insulation test ranges.
A 3 ohm continuity range and a 500 ohm resistance range
TRIPLEPOINT CALIBRATIONS DIFFERENCE
Online Customer Support
Our online portal allows you 24/7 access to manage all of your test equipment assets, calibration reports, and documentation in one place.
Online Calibration Form
Simple, quick, and effective. Our online RMA form will ensure that you are able to track the movement of your instruments as they leave your site and are returned.
QR Coding
No more lost calibration certificates. Each instrument that is calibrated has a QR code attached which contains the corresponding calibration certificate.
Low Measurement Uncertainty
Withing the scope of the calibration the best possible instruments class is identified in each case, We can determine low measurement uncertainties as a function of defined criteria such as display deviation or repeat accuracy.
Turn Around Time
We understand that time is money. Our standard turnaround is 3-5 days, with expedited service options for when you're really in a rush.
Automated Calibration Software
Our precision software ensures that your calibrations are completed efficiently, and will meet or exceed the manufacturers specifications.
Experienced Factory Trained Technicians
With over 100 years of combined experience, you can be confident that calibrations and repairs are completed to the most exacting standards.
Complete Measurement range
We calibrates the entire measurement range of you testing instruments and indicates this on the calibration certificate. With a calibration of multiple measuring points, the range of application for your instruments.
WHAT'S GOING ON - EVENTS, NEWS, TIPS
We have a lot of customers from very different Industries waiting to purchase the Link IQ as soon as its released from Industrial Autom...
We follow ISO9001 Quality Management systems since last six years. We have successfully renews our ISO9001:2015 for 2020-21. For a copy...
Fluke Industrial has launched first CAT III 1500V DC Clamp Meter. This clamp meter is designed for technicians who work in dc envir...
Talk to a Triple Point Calibrations Pty Ltd expert today. Our friendly team is made up of highly trained electrical specialists who can give you sound advice on what you need.