Temperature read out in ℃ and ℉
On/Off switch on the right side of the unit.
MCU controlled temperature calibration.
Simulate bar indicating heating up status.
LCD display screen making control visualization.
User-friendly menu enables system setting easier.
Separate iron stand to save room and to make easier deposit.
Buttons (1, 2, 3) for pre-setting or switching frequently used temperature.
Low-voltage heater separated from power supply to keep soldering work safer
Product Highlights
Patented four-in-one crimping plier tool combines the following:
Needle nose crimping pliers
UR/UY/UG connector crimper
Wire stripper hole for 22- to 24-gauge wire
Built-in side cutter
Rubber coated handles for non-slip grip
Works on live networks to provide Ethernet switch detection and device configuration
Measure network capacity (10 Meg, 100 Meg, 1 Gig) to determine support for VoIP, data and video
Advanced troubleshooting diagnostics; insertion loss, cross talk, noise issues
Core troubleshooting features; length, distance to fault, graphical wire mapping, opens, shorts, power over Ethernet (POE) detection
Tests all copper cabling media: twisted-pair, coax, and audio
Locate and trace cables with digital toning technology.
IntelliTone digital toning technology:
Ends network cable location confusion, decisively rejects noise and false signals
Network cable tracer locates cables on active networks, even when terminated at a switch
Confirms cable location, verifies cable continuity, and detects cable faults (opens, shorts, and reversed pairs) in one step
Probe has built-in pair tester to identify open, shorted and crossed pairs
Signal strength indicator LEDs so you can help identify one cable that is bundled with other cables
SmartTone® analog toning technology:
Isolates individual wire pairs precisely by changing tone when shorted
Effectively traces and locates voice, audio, and video cabling
An easy-to-use cable fault locator, cable and wire manager and tone generator.
Works on any two or more conductor cable up to 3,000 feet (915 meters)
Instantly measures distance to open or any fault from one end of any cable pair
Patented SmartToneTM tone generator positively identifies pair
Measures cable distance on spool
Measures constantly while 'On'
Displays distance reading rather than waveform
Large bright LED screen
One button operation
High voltage detection
Moisture proof
Additional line cord options available for coaxial cable (F-connectors) and other applications
TS19 telephone test equipment features DataSafe™, Tone or Pulse operation, Talk/Monitor capabilities and last number redial.
High impedance DataSafeTM operation in monitor mode
Tone (DTMF) and pulse operation
Last number redial
Polarity indication in talk mode
Key features
Pocked sized, simple point and shoot technology empowers teams to quickly scan equipment
Can survive a 1-meter drop
IP54 Rating – Stands up to dirt and water
The 3.5" LCD touchscreen offers IR-Fusion™ to blend a visible light image
Slide your finger across the screen to adjust the setting
Store your assets to a predefined folder by scanning your asset's QR code or barcode
Send via Wifi or automatically upload once you connect to your network or via USB
Eliminate the tedium of sorting and organizing your infrared images
Efficiently find and report issues before they become problems
Two Year Warranty
What's In the Box
Thermal imager
USB Cable
Strap
Case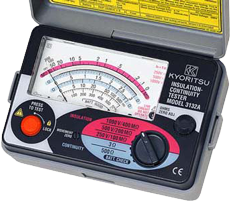 Kyoritsu 3132A – 1000V Analogue Insulation-Continuity Tester
A highly compact and easy to use insulation and continuity tester.
Rugged Taut Band meter movement
Designed to strict CAT III 600V safety standards
IP54 RATED. The Kyoritsu 3132A has 3 insulation test ranges.
A 3 ohm continuity range and a 500 ohm resistance range
Key Features:-
The 6201A is a portable appliance tester, performing four functions to ensure the safety of Class I and Class II appliances. It can also measure the mains voltage.
It has function to perform an extension lead test.
Cheapest Test & Tag machine into the market
Insulation test voltage selectable for 250V or 500V
The tester is conveniently colour coded for ease of use
Readings are displayed on a large LCD
Four (4) dual colour LEDs clearly display a Pass or Fail indication for threshold values dictated by AS/NZS 3760.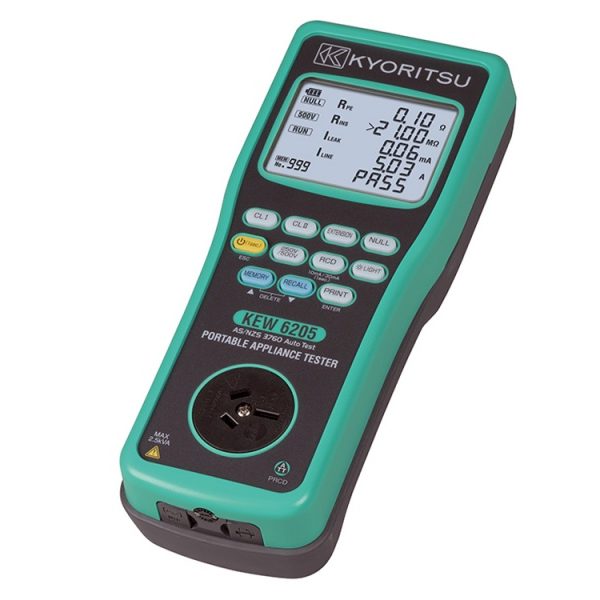 Protect life and property from faulty appliances
・Battery operated
・PASS / FAIL result
・Color status back light
・10 mA & 30 mA RCD test(Isolation transformer built in)
Memory function up to 999 data
・Printer output
・Complies to AS / NZS 3760
LCD screen to display measurement results and messages.
CAT IV 600V instrument and lead set compliance.
IP54 moisture and dust ingress rating.
Compact hand held unit housed in a lightweight heavy-duty case
Uniquely self powered passive device.
Power is taken directly from the user's connections.
3 LED indicators and an LCD screen for status and measurement information.
An audible alarm is fitted internally as a secondary indicator. To indicate a pass at the end of the measurement cycle or a measurement failure.
Modiewark Non-Contact Voltage Tester Typical uses
Identifying live conductors.
Fault finding in flexible cables.
Checking equipment grounding.
Neon lighting servicing.
Tracking live wires above and below ground at URD test points.
Phasing conductors.
High frequency radiation detection